Tutorial zur Zugriffssteuerungsliste (ACL)
From Joomla! Documentation
Outdated translations are marked like this.
Separate ACL für Anzeige und Aktionen
Das Joomla ACL-System besteht genau genommen aus zwei völlig getrennten Systemen. Das eine System steuert, was Benutzer auf der Website "sehen" können. Das andere steuert, was Benutzer "tun" können (welche Aktionen ein Benutzer durchführen kann). Die ACL wird für jedes dieser Systeme anders eingerichtet.
Steuern, was Benutzer sehen können
Das Setup zum Steuern, was Benutzer sehen können, sieht wie folgt aus:
Eine Reihe von Zugriffsebenen gemäß den Kategorien und/oder der Kombination von Kategorien erstellen, die nur angemeldete Benutzer sehen sollen. Anmerkung: Zu diesem Zeitpunkt werden noch keine Benutzergruppen den neuen Zugriffsebenen zugewiesen.
Für jede Zugriffsebene eine Benutzergruppe erstellen, die 'Registriert' als übergeordnete Gruppe hat. Indem man für Benutzergruppen und Zugriffsebenen die gleichen Namen verwendet, kann man Verwirrungen zu einem späteren Zeitpunkt vorbeugen.
Die neuen Zugriffsebenen bearbeiten und jeder die (neue) Benutzergruppe zuweisen. Wahrscheinlich möchten man auch die 'Super Benutzer' Gruppe (und/oder die anderen Standard-Benutzergruppen mit Ausnahme der Benutzergruppe 'Gast') den neuen Zugriffsebenen zuweisen.
Jedem anzuzeigenden Eintrag eine Zugriffsebene zuweisen. Einträge sind sowohl inhaltliche Einträge (Beiträge, Kontakte, usw.), Menüeinträge als auch Module.
Immer dann, wenn ein Benutzer im Begriff ist, einen Eintrag auf einer Joomla-Seite anzeigen zu lassen, prüft das Programm, ob dieser Benutzer auch Zugriff auf den Eintrag hat. Das geschieht folgendermaßen:
Zunächst wird eine Liste aller Zugriffsebenen erstellt, auf die der Benutzer zugreifen kann, basierend auf allen Gruppen, denen der Benutzer angehört. Sofern eine Gruppe eine übergeordnete Gruppe besitzt, sind die Zugriffsebenen für die übergeordnete Gruppe ebenfalls in der Liste enthalten.
Danach wird überprüft, ob die Zugriffsebene für den Eintrag (Beitrag, Modul, Menüeintrag, usw.) in dieser Liste enthalten ist. Wenn dem so ist, wird der Eintrag dem Benutzer angezeigt. Falls der Benutzer die benötigten Zugriffsrechte besitzt, wird ihm der Zugriff verweigert.
Beachten, dass Zugriffsebenen für jede Gruppe separat festgelegt und nicht von der übergeordneten Gruppe einer Gruppe vererbt werden.
Steuern, was Benutzer tun können
Das System, das steuert, was Benutzer in einer Benutzergruppe tun können - welche Aktionen sie bei einem bestimmten Eintrag ausführen können - wird über den Tab 'Berechtigungen' in der Konfiguration und den Tab 'Berechtigungen' in den Optionen jeder einzelnen Komponente eingerichtet. Berechtigungen können auch auf Kategorienebene (bei Kernkomponenten) und auf Beitragsebene (bei Beiträgen) gesetzt werden.
Wenn angemeldete Benutzer in bestimmten Kategorien Erstellen, Löschen, Status bearbeiten oder Eigene Inhalte bearbeiten dürfen, dann:

Eine Benutzergruppe erstellen und als übergeordnete Gruppe eine der Benutzergruppen angeben, die Zugriff auf die Kategorie (oder Kategorien) haben, die diese neue Benutzergruppe ändern soll.
Der neuen Benutzergruppe den entsprechenden Zugriffsebenen zuweisen. Dann die erforderlichen Berechtigungen für die neue Benutzergruppe entweder global oder pro Kategorie/Beitrag ändern.

Beim Erstellen einer Benutzergruppe ist es ratsam, eine übergeordnete Gruppe zu wählen, die über weniger Berechtigungen verfügt, als für die neue Gruppe erforderlich. Denn es ist einfacher, die Berechtigungen für jede Komponente/Kategorie/Beitrag zu erweitern, für die zusätzliche Berechtigungen nötig sind, als Berechtigungen aus den anderen Komponenten/Kategorien/Beiträgen zu entfernen.

(Beispiel: Es gibt 10 Kategorien, man möchte aber nur für eine Erstellen-Berechtigungen. Würde man für diese Gruppe die Berechtigungen global auf Erstellen erlaubt setzen, müsste man für diese Kategorien die Erstellen-Berechtigung entfernen. Und man müsste für diese Gruppe die Erstellen-Berechtigung bei jeder neuen Kategorie, die man zu einem späteren Zeitpunkt hinzufügt, ebenfalls entfernen).

Eine Benutzergruppe erstellen, die eine der Standardbenutzergruppen als übergeordnete Gruppe hat, NUR, wenn keine von diesen über die exakten Berechtigungen verfügt, die man benötigt und sich für alle Kategorien wünscht.
Beachten, dass dieses Setup unabhängig vom Setup für die Anzeige ist. Allerdings muss eine Benutzergruppe den entsprechenden Zugriffsebenen zugewiesen werden, damit der Benutzer in dieser Gruppe jene Berechtigungen verwenden kann.
Möchte ein Benutzer eine bestimmte Aktion bei einem Komponenten-Eintrag durchführen (z. B. einen Beitrag bearbeiten), überprüft das System (nachdem es überprüft hat, welcher Gruppe der Benutzer angehört und auf welche er Zugriff hat) die Berechtigung für diese Kombination aus Benutzer, Eintrag und Aktion. Liegt eine Erlaubnis vor, kann der Benutzer fortfahren. Andernfalls ist die Aktion nicht zulässig.
Das restliche Tutorial befasst sich mit der Steuerung, was Benutzer tun können - welche Aktionsberechtigungen sie haben.
Aktionen, Gruppen und Vererbung
Andererseits geht es bei der ACL auch darum, Benutzern Berechtigungen zu erteilen, damit diese Aktionen an Objekten durchführen können.
| | 3.x Serie |
| --- | --- |
| Gruppen und Aktionen | Aktionen, welche pro Gruppe erlaubt sind, werden durch den Website Administrator festgelegt. |
| Umfang von Berechtigungen | Berechtigungen können auf mehreren Ebenen in der Hierarchie festgelegt werden: Website, Komponente, Kategorie, Objekt. |
| Vererbung von Berechtigungen | Berechtigungen können von übergeordneten Gruppen und übergeordneten Kategorien geerbt werden. |
Wie die Berechtigungen funktionieren
Es gibt vier mögliche Berechtigungen für Aktionen. Diese sind (kurz skizziert):
Nicht gesetzt: Fällt standardmäßig auf "Nicht erlaubt" zurück. Aber im Gegensatz zur Berechtigung "Verweigert" kann diese Berechtigung außer Kraft gesetzt werden, wenn eine untergeordnete Gruppe oder eine in der Berechtigungshierarchie untergeordnete Ebene auf "Erlaubt" gesetzt wird. Diese Berechtigung kann nur für globale Berechtigungen der Konfiguration gesetzt werden.
Vererbt: Erbt den Wert von einer übergeordneten Gruppe oder einer in der Berechtigungshierarchie höheren Ebene. Diese Berechtigung gilt für alle Ebenen mit Ausnahme der obersten Ebene der Konfiguration.
Verweigert: Verbietet diese Aktion für diese Ebene und Gruppe. WICHTIG: Dadurch wird diese Aktion auch für alle untergeordneten Gruppen und alle untergeordneten Ebenen in der Berechtigungshierarchie verboten. Wird "Erlaubt" in einer untergeordneten Gruppe oder einer tieferen Ebene gesetzt, hat das keinen Effekt. Die Aktion wird immer für alle Mitglieder einer untergeordneten Gruppe und für alle untergeordneten Ebenen in der Berechtigungshierarchie abgelehnt.
Erlaubt : Genehmigt diese Aktion für diese Ebene und Gruppe und für tiefere Ebenen und Untergruppen. Dies hat keine Auswirkungen, wenn eine höhere Gruppe oder Ebene auf "Verweigert" oder "Erlaubt" eingestellt ist. Wenn eine höhere Gruppe oder ein höheres Ebene auf "Verweigert" gesetzt ist, wird diese Berechtigung immer abgelehnt. Wenn eine höhere Gruppe oder Ebene auf Erlaubt eingestellt ist, ist diese Berechtigung bereits erlaubt.
Hierarchie der Berechtigungsebenen
Berechtigungen für Aktionen können in Version 2.5+ auf bis zu vier Ebenen festgelegt werden, wie folgt:
Konfiguration: legt die Standardberechtigungen für jede Aktion und Gruppe fest.
Komponenten-Optionen-> Berechtigungen: kann die Standardberechtigungen für diese Komponente überschreiben (z. B. Beiträge, Menüs, Benutzer, Banner usw.).
Kategorie: kann die Standardberechtigungen für Objekte in einer oder mehreren Kategorien überschreiben. Gilt für alle Komponenten mit Kategorien, einschließlich Beiträge, Banner, Kontakte, Newsfeeds und Weblinks.
Beitrag: kann die Berechtigungen für einen bestimmten Artikel überschreiben. Diese Ebene gilt nur für Beiträge. Alle anderen Komponenten erlauben nur die ersten drei Ebenen.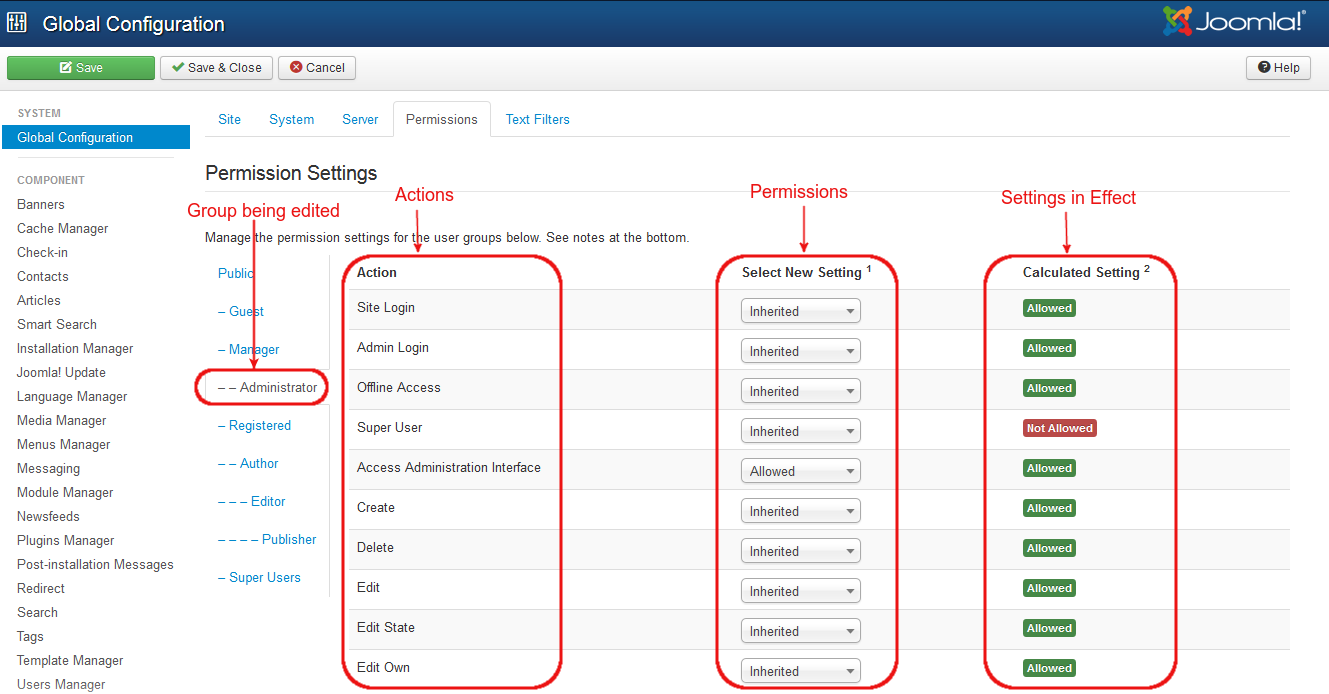 Die möglichen Werte sind Vererbt, Erlaubt oder Verweigert. Die Spalte 'Errechnete Einstellung' zeigt die aktuelle Einstellung an. Diese ist entweder Nicht erlaubt (Standard), Erlaubt oder Nicht erlaubt.
Man kann immer nur an einer Gruppe gleichzeitig arbeiten, indem man den Reiter für ebendiese Gruppe anklickt. Die Berechtigungen kann man über die Dropdownlisten unter Neue Einstellung wählen ändern.
Beachten Sie, dass die Spalte "Errechnete Einstellung" erst aktualisiert wird, wenn Sie auf die Schaltfläche "Speichern" in der Werkzeugleiste klicken.
Um zu überprüfen, ob die Einstellungen Ihren Wünschen entsprechen, klicken Sie auf die Schaltfläche Speichern und überprüfen anschließend die Spalte Errechnete Einstellung.
Komponenten-Optionen->Berechtigungen
Auf diese wird für jede Komponente durch Klicken auf das Symbol "Optionen" in der Werkzeugleiste zugegriffen. Dieser Bildschirm ist ähnlich wie der Bildschirm "Globale Konfiguration" oben links. Wenn Sie beispielsweise im Menü-Manager auf das Symbol in der Werkzeugleiste Optionen klicken, werden die folgenden Menüs angezeigt.
Der Zugriff auf Optionen ist nur für Mitglieder von Gruppen möglich, die die Berechtigung für die Aktion Konfiguration in für jede Komponente haben. Im obigen Beispiel hat die Gruppe Administrator die Berechtigung Erlaubt für die Option Konfigurieren, so dass Mitglieder dieser Gruppe auf diesen Bildschirm zugreifen können.
In diesen Bildern bearbeiten Sie die Berechtigungen für jeweils eine Benutzergruppe. Im obigen Beispiel bearbeiten Sie die Berechtigungen für die Gruppe Administrator.
Achten Sie darauf, dass die Aktionen "Konfigurieren und Zugriffssteuerung" nicht auf der Kategorieebene angewendet werden, so dass diese Aktionen nicht enthalten sind.
Beachten Sie auch, dass Kategorien in einer Hierarchie angeordnet werden können. Wenn ja, dann werden Aktionsberechtigungen in einer übergeordneten Kategorie automatisch an eine untergeordnete Kategorie vererbt. Wenn Sie beispielsweise eine Kategoriehierarchie von Tieren → Haustiere → Hunde hätten, dann würde die vollständige Berechtigungshierarchie für einen Artikel in der Kategorie Hunde wie folgt aussehen:
Globale Konfiguration
Artikel-Manager → Optionen → Genehmigung → Erlaubnis
Tierkategorie
Kategorie Haustiere
Kategorie Hunde
spezifischer Artikel
Beitrag
Berechtigungen für einzelne Beiträge findet man im "Beitrag" unter dem Tab-Reiter "Berechigungen". Dieser Bildschirm hat drei Aktionen, wie unten gezeigt.
Auch hier bearbeiten Sie jede Gruppe für sich. Um auf die Berechtigungen zuzugreifen wechseln Sie im Artikel auf den Reiter "Berechtigungen" im oberen Reiter. Über das Drop Down Menü wählen Sie die neue Berechtigung im Anschluss speichern Sie den Beitrag ab.
Beachten Sie, dass die Aktionen Configure, Access Component und Create auf Artikelebene nicht gelten, so dass diese Aktionen nicht berücksichtigt werden. Die Berechtigung zum Anlegen eines Artikels wird auf einer der höheren Ebenen der Hierarchie festgelegt.
Zugriffsebenen
Die Zugriffsebenen der 3.x-Serie sind einfach und flexibel. Der folgende Bildschirm zeigt die spezielle Zugriffsebene.
Aktivieren Sie einfach das Kontrollkästchen für jede Gruppe, die Sie in diesem Level aufnehmen wollen. Die spezielle Zugriffsebene umfasst die Gruppen Manager, Autor und Superuser. Es beinhaltet auch untergeordnete Gruppen dieser Gruppen. Die Gruppe Administrator ist also enthalten, da es sich um eine Untergruppe der Gruppe Manager handelt. Die Gruppen Editor, Publisher und Shop Suppliers sind enthalten, da es sich um Untergruppen des Autors handelt.
Jedem Objekt im Frontend ist eine Zugriffsebene zugeordnet. Wenn die Ebene öffentlich ist, kann jeder auf dieses Objekt zugreifen. Andernfalls dürfen nur Mitglieder von Gruppen, die dieser Zugriffsebene zugeordnet sind, auf dieses Objekt zugreifen.
Die Zugriffsebenen sind den Menüpunkten und den Modulen zugeordnet. Jede kann nur einer Zugriffsebene zugeordnet werden.
Der folgende Bildschirm zeigt beispielsweise den Bildschirm Menüpunkt bearbeiten mit der Liste der verfügbaren Zugriffsebenen....
Standard-ACL-Setup
Wenn Joomla! installiert ist, werden diese auf die ursprünglichen Standardwerte gesetzt. Wir werden diese Grundeinstellungen besprechen, um die Arbeitsweise der ACL zu verstehen.
Standardgruppen
Mit der Version 3.x können Sie Ihre individuellen Gruppen definieren. Wenn Sie die Version 3.x installieren, enthält sie eine Reihe von Standardgruppen, die im Folgenden dargestellt werden, sind die grundlegenden Standardbenutzergruppen. (Zusätzliche Standardbenutzergruppen werden mit Beispieldaten installiert)
Die Pfeile zeigen die untergeordneten Elternbeziehungen an. Wie vorstehend besprochen, wird diese Berechtigung, wenn Sie eine Berechtigung für eine übergeordnete Gruppe festlegen, automatisch an alle Untergruppen vererbt. Die vererbten und zulässigen Berechtigungen können für eine Untergruppe überschrieben werden. Die Berechtigung Verweigert kann nicht überschrieben werden und verweigert immer eine Aktion für alle Untergruppen.
Konfiguration
Joomla! Version 3.x wird mit den gleichen bekannten Backend-Rechten wie die Version 1.5 (EOL) installiert. Mit der Version 3.x können Sie diese jedoch leicht an die Bedürfnisse Ihrer Website anpassen.
Wie bereits besprochen, werden die Berechtigungen für jede Aktion von der obigen Ebene in der Berechtigungshierarchie und von der übergeordneten Gruppe einer Gruppe übernommen. Also, wie funktioniert das? Die oberste Ebene dafür ist der gesamte Standort. Dies wird in der Site->Globale Konfiguration->Berechtigungen eingerichtet, wie unten gezeigt.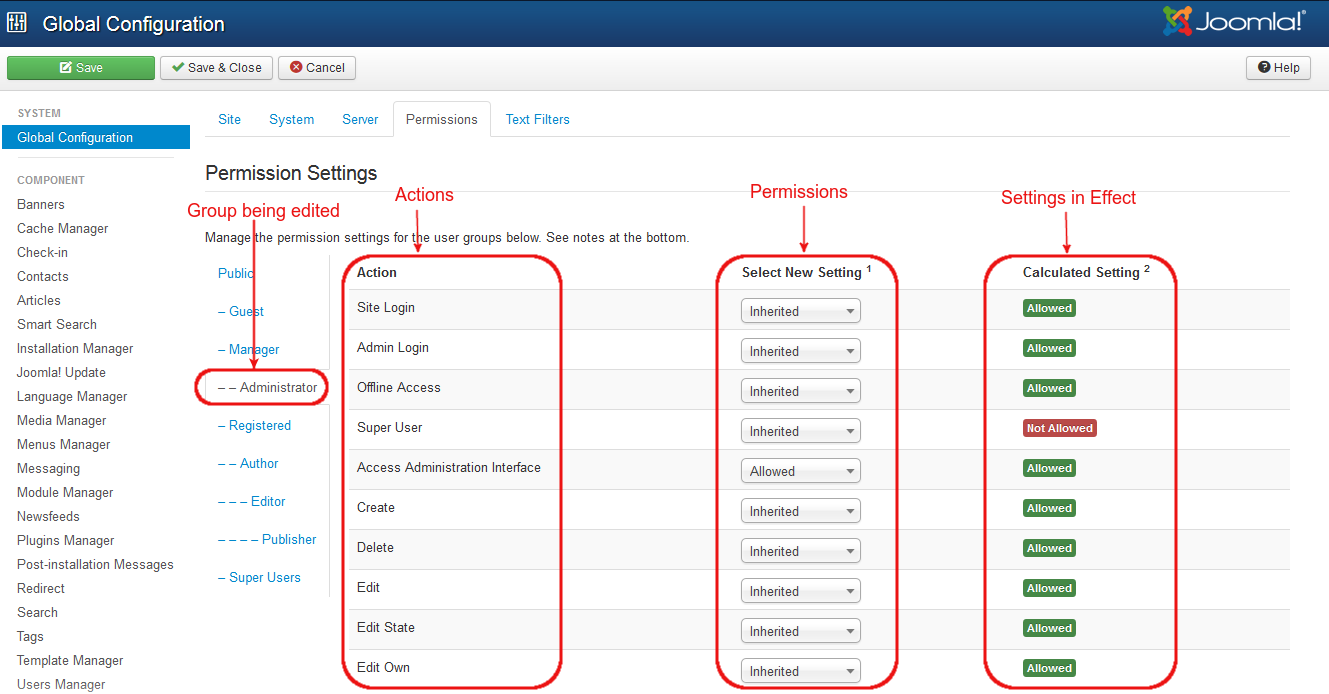 Das erste, was man bemerken sollte, sind die zehn Aktionen: Standortlogin, Admin-Login, Offline-Zugriff, Superuser, Access Administration Interface, Erstellen, Löschen, Bearbeiten, Status bearbeiten und Eigenes bearbeiten. Dies sind die Aktionen, die ein Benutzer an einem Objekt in Joomla durchführen kann. Die spezifische Bedeutung jeder Aktion hängt vom Kontext ab. Für das Bild Globale Konfiguration sind sie wie folgt definiert:
Site Login : Login to the front end of the site
Admin Login

Melden Sie sich am Backend der Website an.
Offline-Zugriff: Melden Sie sich am Frontend der Website an, wenn die Website offline ist (wenn die globale Konfigurationseinstellung "Site Offline" auf Ja gesetzt ist).
Superuser: Gewährt dem Benutzer den Status "Superuser". Benutzer mit dieser Berechtigung dürfen alles auf der Website machen. Nur Benutzer mit dieser Berechtigung können die Einstellungen der globalen Konfiguration ändern. Diese Berechtigungen können nicht eingeschränkt werden. Es ist wichtig zu verstehen, dass, wenn ein Benutzer Mitglied einer Super Admin-Gruppe ist, alle anderen Berechtigungen, die diesem Benutzer zugewiesen sind, irrelevant sind. Der Benutzer kann jede Aktion auf der Website durchführen. Es können jedoch weiterhin Zugriffsebenen zugewiesen werden, um zu steuern, was diese Gruppe auf der Website sieht. (Natürlich kann ein Super-Admin-Benutzer die Zugriffsebenen ändern, wenn er möchte, so dass die Zugriffsebenen nicht vollständig einschränken, was ein Super-Admin-Benutzer sehen kann.)
Zugangskomponente: Öffnen Sie die Bildschirme der Komponentenverwaltung (Benutzerverwaltung, Menüverwaltung, Artikelverwaltung usw.).
Create

Create new objects (for example, users, menu items, articles, weblinks, and so on)
Löschen

Löschen eines existienden Objekts
Ändern

Ändern eines existierenden Objektes
Ändern eines Objekt Status (Veröffentlicht, nicht Veröffentlicht, Archiviert und Gelöscht)
Eigene Objekte bearbeiten: Bearbeiten Sie Objekte, die Sie erstellt haben.
File:Screenshot global acl guest J3 tutorial-de.png
Komponenten-Optionen & Berechtigungen
Frontend Berechtigungen
Beachte auch das in den ursprünglichen Standardwerten keine Berechtigungen auf Verweigert eingestellt sind. Dies ermöglicht in allen Berechtigungsebenen die jeweilige Berechtigung auf Erlaubt einzustellen. Bedenke, wenn eine Aktion auf Verweigert eingestellt ist, das diese Aktion auch in allen untergeordneten Ebenen in der Berechtigungshierarchie verweigert wird. Zum Beispiel, wenn die Seitenameldung für Registered auf Verweigert (anstatt auf Erlaubt) eingestellt wird, kann man Publishers diese Aktion per Berechtigungeinstellung nicht erteilen.
Beitrags-Manager & Aktions-Diagramm
Gastzugang zu einzelnen Menüpunkten und Modulen
Berechtigungen und Gruppenebenen gemeinsam nutzen
Backend Beitrag Administrator
Problem:
Lösung:
ACL Ansicht Zugriffsebenen-Beispiele
Hierarchisches Beispiel
| | | |
| --- | --- | --- |
| Benutzer | Gruppe | Zugriffsebenen |
| C1, C2, C3 | | |
| S1, S2, S3 | | |
| TS1, TS2, TS3 | | Classified, Secret, Top Secret |
Teamsicherheit Beispiel
| | | | |
| --- | --- | --- | --- |
| Benutzer | Beschreibung | Gruppe | Zugriffsebenen |
| U1 | Team 1 Mitglied | T1 | T1 |
| U2 | Team 2 Mitglied | T2 | T2 |
| U3 | Team 3 Mitglied | T3 | T3 |
| U1-2 | Mitglied aus Team 1 und 2 | T1, T2 | T1, T2 |
| U1-3 | Mitglied aus Team 1 und 3 | T1, T3 | T1, T3 |
| U1-2-3 | Mitglied aus Team 1, 2 und 3 | T1,T2, T3 | T1, T2, T3 |
| | | |
| --- | --- | --- |
| | | |
| | Non-team manager documents | |
| | | |
| | Sensitive Team1 documents (no access outside team) | |
| | Team1 documents that can be accessed by all managers | |
| | Sensitive Team2 documents (no access outside team) | |
| | Team2 documents that can be accessed by all managers | |
| | |
| --- | --- |
| | |
| | |
| Staff on no teams | Staff |
| | |
| | |
| | |
| | |