J3.x:Instalação do Joomla
---
Instalar o Joomla! pela primeira vez, é muito fácil. O instalador da Web Joomla! incorporado torna a configuração do seu novo sítio muito fácil.
Requisitos
Requisitos de Hospedagem
Before we start installing Joomla!, there are a couple prerequisites that need to be met to install Joomla! 3.x successfully. These apply whether you have a dedicated server, a shared hosting plan server, or are installing a copy on a local computer for testing or development.
Irá precisar de satisfazer os seguintes requisitos abaixo para instalar e utilizar o Joomla!
Software
Recomendado
Mínimo
Mais Informação
PHP (Magic Quotes GPC, MB String Overload = off / Zlib Compression Support, XML Support, INI Parser Support, JSON Support, Mcrypt Support, MB Language = Default)
5.6 + ou 7 +[1]
5.3.10 +
www.php.net
Base de dados suportadas:
MySQL[2] (InnoDB support required)
5.5.3 +
5.1 +
www.mysql.com
SQL Server
10.50.1600.1 +
10.50.1600.1 +
www.microsoft.com/sql
PostgreSQL
9.1 +
8.3.18 +
www.postgresql.org
Servidores da Web suportados:
Apache(with mod_mysql, mod_xml, and mod_zlib)[3][4]
2.4 +
2.x +
www.apache.org
Nginx
1.8 +
1.0 +
wiki.nginx.org
Microsoft IIS
7
7
www.iis.net
Referências
↑ PHP 5.3.1 is required for versions 3.0 through 3.2. At 3.3, the minimum is raised to PHP 5.3.10.
Only Joomla! versions 3.5 and later are compatible with PHP 7.
↑

Joomla is not yet compatible with MySQL 6.x.

↑ In order to use Search Engine Friendly URLs, you will need to have the Apache mod_rewrite extension installed.
Preparar para Instalar
Vai precisar de completar duas tarefas antes de instalar o Joomla! no seu servidor. Primeiro, vai precisar de transferir os ficheiros do pacote Joomla!. Depois, vai precisar de ter uma base de dados para a utilização do Joomla!.
Transferir e Enviar Ficheiros de Pacote Joomla!
Transferir o lançamento atual do Joomla! 3.x
Move the downloaded Joomla! installation package to the server. Use a FTP Client to transfer the Joomla! 3.x files to your server. There are several available for use, here is a detailed list of FTP Clients. Please make sure you are using a FTP client's official release.
Hint - This can be accomplished by simply moving the downloaded package to your server, then unpacking it. Or you can unpack the files on your local computer, then move the Joomla installation over to your server. Either way, the Joomla installation needs to be unpacked in the root of your site.

Aviso!
If you unpack the files on your own computer, then copy them to your server, be sure to move only the folders and files contained INSIDE the Joomla! package. If you unpack the folders and files into a folder, for example called, Joomla and then upload that folder, your site will have to be accessed at yoursitename.com/Joomla instead of yoursitename.com.
Base de dados para a instalação do Joomla!
If you need to create a database, please read "Create a database for use with Joomla!" first or skip to step #2.
You will need to note basic database information needed when the actual Joomla! installation is started.

Location of database, localhost? Or a specific host's server such as dbserver1.yourhost.com?
The database name
The database user's name
The database user's password
Iniciar a Instalação
Configuração Principal
Com todos os requisitos acima completados, uma base de dados criada e os ficheiros necessários do Joomla! no lugar, está preparado para instalar o Joomla!. Inicie o instalador da Web do Joomla!, abrindo o seu navegador favorito e navegando para o nome de domínio do sítio. Na instalação do hospedeiro que vai utilizar http://www.yoursitename.com. Se estiver a instalar o Joomla! localmente, irá utilizar http://localhost/<o caminho para os ficheiros Joomla>, e deverá ver o ecrã de instalação.
Joomla! will try to identify the Select Language field automatically from your browser's language. You can change this if needed.
Fill in the following information.
Site Name: the name of your website — this can be changed at any point later in the Site Global Configuration page.
Description: enter a description of the website. This is a the global fallback meta description used on every page which will be used by search engines. Generally, a maximum of 20 to 25 words is optimal. Again, this can be changed on the Site Global Configuration page at any time. For more on metadata, see Global Metadata Settings and Entering search engine meta-data.
Admin Email Address: the admin email address. Enter a valid email in case you forget your password. This is the email address where you'll receive a link to change the admin password.
Admin Username: Joomla! uses a default "admin" as the username for the Super User. You can leave it as is, change it now (which a good Security measure) or use My Profile in the Administration interface to change it later.
Admin Password: remember that super user has maximum control of the site (frontend & backend), so try to use a difficult password. Use My Profile in the Administration interface to change it later. Confirm the password in the Confirm Admin Password box.
Site Offline: click the Yes or No box. Yes - this means when installation is complete, your Joomla! website will display the 'Site is offline' message when you browse to yoursitename.com to view the home page. No - this means the site is live when you browse to yoursitename.com to view the home page. You can use the Site Global Configuration in the Administration interface to change the Offline status at any time.
Quando estiver tudo concluído na primeira página, clique em "Seguinte" " para prosseguir:
Database Configuration
Configuration Settings
You will need to enter the information about the database you will use for Joomla! now. It was suggested to write this information down under "Prepare for Install" tab. You may also read or review Creating a Database for Joomla!.
For simplification, these intructions are a reference to installing with a MySQLi database. The instructions on the installation page are self explanatory, but here they are again:
Database Type: MySQLi is the common database used
Hostname Where is your database located? Common is localhost, but some hosts use a specific database server such as dbserver1.yourhost.com
"'"Nome de Utilizador": o nome de utilizador utilizado para conetar à base de dados
""Senha": a senha para o utilizador da base de dados
"'Nome da base de dados"': o nome da base de dados
"Prefixo da Tabela"': é gerado um automaticamente, mas pode alterá-lo. Por exemplo, pode ser utilizado jos3_. mas não se esqueça de colocar o caráter 'sublinhado' (_) no fim do prefixo.
"'Processo da Base de Dados Antigo"': deverá o instalador efetuar uma cópia de segurança ou apagar as tabelas existentes durante a instalação das novas tabelas? Clique em Sim ou Não para selecionar a escolha.
All these choices can be edited on the Site Global Configuration page, under Server options after the installation is completed. Note, you will break your installation if you change these settings after installation unless you have a complete copy of the current database being used by the Joomla! installation. Common uses would be to update the username and password of the database or to complete a move of an existing installation to a new host with different parameters.
Quando tiver preenchido toda a informação, clique em "Seguinte" " para prosseguir:
Finalise
Overview
It is now time to finalise the Joomla! installation. The last page of the web browser installation contains all the information about the installation. This includes the options(at the top) for installing sample data and the installation's configurations(at the bottom).
Install Sample Data and Email Configurations
The first options are for automatically installing sample content to the website and emailing the configuration settings.
If you are new to Joomla! it would be beneficial to install some sample data to see how Joomla! works. You can at this time choose to have the configuration settings emailed to you. If the Email Configuration choice is selected, the Email Password choice will appear. The email password is off by default for security. You can choose to have the password included, just click Yes.
Altura para verificar as configurações da sua instalação e o ambiente da instalação.
Seleção da Configuração
Verificar As Suas Configurações
Se estiver tudo em ordem, irá ver a instalação no topo da página de sinopse. Se não, este é o local para verificar e ver o que poderá estar a causar um problema.
The section is broken into 4 groups:
Main Configuration: all the website specific information, such as the website name, description, admin username, etc.
Database Configuration: contains the information about the database Joomla! will use.
Pre-Installation Check: these requirements must all be shown as Yes, otherwise you will not be able to install Joomla! With the exception of the PHP Version, the rest are usually controlled in the php.ini. You may need assistance from your host in correcting these settings or checking to see if it is possible to adjust them. For more information, see PHP configuration file file.
Recommended Settings: these are settings are recommended in your PHP configuration, but will not prevent Joomla! from being installed. You can refer to the above instructions on how they may be changed.
If everything is correct and all checks are passed, you may now click the Install button in the top right corner of the Overview page. This will start the actual installation process.
After you click the Install button, you should see a progress bar with additional information of the installation. Once the installation completes, you should see the success page!
Terminar
Instalação Bem Sucedida e a Terminar
Parabéns! O Joomla! 3 está agora instalado. Se desejar começar a utilizar o Joomla! de imediato sem instalar os idiomas extras, existe um último passo para terminar a instalação. Deverá apagar a "Pasta de Instalação"'. Clique em ""Remover Pasta de Instalação"' e irá aparecer uma mensagem de bem sucedido. Agora pode navegar para iniciar a sessão "Administrador"', clicando em ""Administrador" "ou ir para o seu sítio, clicando em "'Sítio"'.
Instalação de Idiomas Extras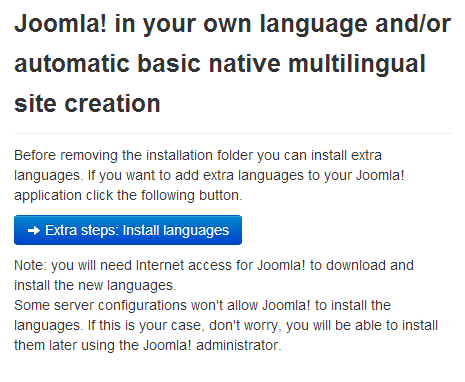 Antes de concluir a instalação, apague a "Pasta de Instalação"', clique em:
 

→  Extra passos: Instalar idiomas
Isto irá continuar a instalação do Joomla!, levando-o para uma nova página de instalação.
Instalar Idiomas
É exibida uma lista de pacotes de idiomas.
Verifique o idioma ou os pacotes de idioma que deseja instalar. Lembre-se do seguinte:
Language packs included in custom distributions will not be listed at this stage as they are already installed.
A version of the packs proposed will match the Joomla Major version (3.0.x, 3.1.x, etc.). The minor version of the pack may not correspond, e.g. you are installing version 3.3.3 and a 3.3.2 language pack is shown.
Unmatched language packs in the above example may have untranslated strings.
The unmatched language packs will be offered as an update when the packs are updated by the registered Translation teams. The available update will be shown in the Control panel as well as in Extensions Manager

 

→ Update. This behavior is similar to Extensions Manager

 

→ Install Languages.
Clique em "Seguinte"' e irá ser exibida uma barra de progresso durante a transferência do pacote ou pacotes de idiomas.
Escolher Idioma Predefinido
When the download is complete you can choose the default language for the Site and the Administrator interface.
Escolha o idioma predefinido.
Também poderá escolher agora, a ativação das funções multilingue do Joomla!.
Clique em "Sim" para ""Ativar a função multilingue"'
Irão aparecer duas opções adicionais.
Install localised content, yes or no. This will automatically create one content category for each language installed and one featured article with dummy content for each content category installed.
Enable the language code plugin, yes or no. If enabled, the plugin will add the ability to change the language code in the generated HTML document to improve SEO.
Quando tiver concluído todas as opções do idioma de instalação, clique em ""Seguinte"" para prosseguir.
Finalização
You will now be presented with a very similar Congratulations! Joomla! is now installed. screen. The difference will be a notation of the default Administrator and Site language settings, if they were set. You will also not see the Extra Steps message in the bottom right.
Now you can delete the Installation Folder. Click on Remove Installation folder and a success message will appear. Now you can navigate to the Administrator log in by clicking Administrator or go right to your site by clicking Site.
Advertisement