Instaliranje Joomle
From Joomla! Documentation
---
Outdated translations are marked like this.
Instaliranje Joomle po prvi put je vrlo jednostavno. Joomla! ima sistem za instaliranje koji omogućava da vaš novi sajt bude osposobljen sa lakoćom.
Zahtevi
Hosting zahtevi
Prije nego što se počne instalirati Joomla !, postoji nekoliko uslova koje treba ispuniti da bi se Joomla! 3.x instalirala uspešno. Oni se premenjuju bez obzira da li imate dedikejt server, šered hosting paket ili instalirate verziju na lokalnom kompjuteru radi testiranja ili razvoja.
Morat ćete ispuniti sljedeće zahtjeve da biste instalirali i koristili Joomla!
Reference
Preporučena PHP.ini podešavanja
Postoje neka PHP podešavanja koja moraju biti dovoljna za instaliranje Joomle. podešavanja se obično nalaze u "php.ini" or "user.ini". Razgovarajte sa hosting provajderom da li postoji mogućnost da se te vrednosti promene. Ukoliko radi u lokalhostu na primer sa WAMP-om ne bi trebalo ni da postoje ograničenja na VPS ili dedikejt serverima,
Vrednosti namenjene za PHP.ini koje se nalaze ispod su samo predložene vrednosti
memory_limit - Minimalno: 64M Preporučeno: 128M ili više
upload_max_filesize - Minimalno: 20M
post_max_size - Minimalno: 20M
max_execution_time: Barem 120 Preporučeno: 300
Pripremite se za instalaciju
Potrebno je da odradite dva zadatka pre nego budete mogli da instalirate Joomlu. Prvo je potrebno da skinete Joomla! paket fajlova za instalaciju. Drugo je da imate bazu podataka koju će Joomla! da koristi.
Preuzimanje i uplodovanje Joomla! paketa fajlova
Preuzmite trenutno izdanje Joomla! 3.x
Prebacite Joomla !instalaciju koju ste preuzeli na server. Koristite FTP program za prebacivanje Joomla! 3.x fajlova na vaš server. Postoji nekoliko programa sa kojima to možete uraditi, ovde je detaljnija lista FTP programa. Neophodno je da se uverite da je FTP klijent koji koristite zvanična verzija.
Savet - To se može postići jednostavnim premeštanjem preuzetih paketa na vaš hosting, a zatim da ga tamo otpakujete. Ili možete raspakovati fajlove na lokalnom računaru, a zatim premestiti Joomla instalaciju na svoj hosting. U svakom slučaju, Joomla instalacija mora biti raspakovana u osnovnom folderu vaše web stranice.
"Root" (osnovni folder) vašeg sajta je "public folder" gde se smeštaju sve veb stranice tako da korisnik može videti primjere veb sajta public_html and htdocs. Ono što će vaš hosting koristiti zavisi od njih.
Obično se fajlovi sajta prebacuju u osnovni folder "root". On se najčešće naziva "public_html", ali postoje varijante gde ga nazivaju "htdocs", o tome odlučuje hosting. Za potrebe Joomla sajta, možete učitati fajlove direktno u "public_html" ili neki folder unutar njega..

Upozorenje!
Ukoliko ne otpakujete fajlove na vašem kompjuteru i potom ih iskopirate na server, budite sigurni da ste prebacili fajlove i foldere smeštene UNUTAR Joolma" paketa. Ako otpakujete fajlove i foldere unutar foldera koji na primer nazovete Joomla i potom uplodujete taj folder, vašem sajtu će se moći pristupiti sledećom adresom yoursitename.com/Joomla umesto yoursitename.com.
Baza podataka za Joomla! instalaciju
Ukoliko je potrebno da kreirate bazu podataka, preporučujemo da pročitate "Kreiranje baze podataka za Joomla!" prvo ili se odmah prebacite na korak #2.
Biće potrebno da upišete osnovne informacije o bazi podataka tokom Joomla! instalacije.

Lokaciju baze podataka, localhost? Ili nešto malo specifičnije dbserver1.yourhost.com?
Naziv baze podataka
Korisničko ime za bazu podataka
Lozinku za bazu podataka
Početak instalacije
Osnovna podešavanja
Kada ste pripremili gore navedene zahteve, kreirali bazu podataka i prebacili Joomla! fajlove na server spremni ste da se odradi instalacija Joomle. Da bi se počela Joomla! instalacija pokrenite vaš brovser i otvorite veb site domen. Ukoliko je sajt na hostingu koristićete http://www.yoursitename.com. ali ako se Joomla! instalira na lokalu koristi se http://localhost/<putanja do Joomla! fajlova>, I tada bi ste trebali da vidite Instalacionu formu.
Joomla! će pokušati da identifikuje Odaberi Jezik automatski na osnovu toga koji je jezik podešan za vaš brovser. Vi tu možete da odradite izmene prema svojim potrebama ako je potrebno.
Fill in the following information.
Site Name: the name of your website — this can be changed at any point later in the Site Global Configuration page.
Description: enter a description of the website. This is a global fallback meta description used on every page which will be used by search engines. Generally, a maximum of 20 to 25 words is optimal. Again, this can be changed on the Site Global Configuration page at any time. For more on metadata, see Global Metadata Settings and Entering search engine meta-data.
Admin Email Address: the admin email address. Enter a valid email in case you forget your password. This is the email address where you'll receive a link to change the admin password.
Admin Username: Joomla! uses a default "admin" as the username for the Super User. You can leave it as is, change it now (which a good Security measure) or use My Profile in the Administration interface to change it later.
Admin Password: remember that super user has maximum control of the site (frontend & backend), so try to use a difficult password. Use My Profile in the Administration interface to change it later. Confirm the password in the Confirm Admin Password box.
Site Offline: click the Yes or No box. Yes - this means when installation is complete, your Joomla! website will display the 'Site is offline' message when you browse to yoursitename.com to view the home page. No - this means the site is live when you browse to yoursitename.com to view the home page. You can use the Site Global Configuration in the Administration interface to change the Offline status at any time.
When everything on the first page is completed, click the next button to proceed:
Database Configuration
Configuration Settings
You will need to enter the information about the database you will use for Joomla! now. It was suggested to write this information down under "Prepare for Install" tab. You may also read or review Creating a Database for Joomla!.
For simplification, these intructions are a reference to installing with a MySQLi database. The instructions on the installation page are self explanatory, but here they are again:
Database Type: MySQLi is the common database used
Hostname Where is your database located? Common is localhost, but some hosts use a specific database server such as dbserver1.yourhost.com
Username: the username used to connect to the database
Password: the password for the database's username
Database Name: the name of the database
Table Prefix: one is generated automatically, but you can change it. For example, jos3_ can be used. Just don't forget to put the underscore character (_) at the end of the prefix.
Old Database Process: should the installer backup or delete existing tables during the installation of new tables? Click, Yes or No to select the choice.
All these choices can be edited on the Site Global Configuration page, under Server options after the installation is completed. Note, you will break your installation if you change these settings after installation unless you have a complete copy of the current database being used by the Joomla! installation. Common uses would be to update the username and password of the database or to complete a move of an existing installation to a new host with different parameters.
When all the information has been filled in, click the next button to proceed:
Finalise
Overview
It is now time to finalise the Joomla! installation. The last page of the web browser installation contains all the information about the installation. This includes the options(at the top) for installing sample data and the installation's configurations(at the bottom).
Install Sample Data and Email Configurations
The first options are for automatically installing sample content to the website and emailing the configuration settings.
If you are new to Joomla! it would be beneficial to install some sample data to see how Joomla! works. You can at this time choose to have the configuration settings emailed to you. If the Email Configuration choice is selected, the Email Password choice will appear. The email password is off by default for security. You can choose to have the password included, just click Yes.
Time to check the configurations of your install and the environment of the installation.
Configuration Check
Checking Your Configurations
If everything is in order, you will see the install at the top of the overview page. If not, this is the place to check and see what may be causing an issue.
The
section
is broken into 4 groups:
Main Configuration: all the website specific information, such as the website name, description, admin username, etc.
Database Configuration: contains the information about the database Joomla! will use.
Pre-Installation Check: these requirements must all be shown as Yes, otherwise you will not be able to install Joomla! With the exception of the PHP Version, the rest are usually controlled in the php.ini. You may need assistance from your host in correcting these settings or checking to see if it is possible to adjust them.
Typical PHP settings that might cause the install to fail and may need adjusting include the following with suggested values: (1) memory_limit (64M), (2)max_execution_time (30), (3) post_max_size (30M), (4) upload_max_filesize (30M). For more information, see PHP configuration file file.
Recommended Settings: these are settings are recommended in your PHP configuration, but will not prevent Joomla! from being installed. You can refer to the above instructions on how they may be changed.
If everything is correct and all checks are passed, you may now click the Install button in the top right corner of the Overview page. This will start the actual installation process.
After you click the Install button, you should see a progress bar with additional information of the installation. Once the installation completes, you should see the success page!
Finishing Up
Success and Finishing Up the Installation
Congratulations! Joomla! 3 is now installed. If you want to start using Joomla! right way without installing extra languages there is one last step to complete the installation. You must delete the Installation Folder. Click on Remove Installation folder and a success message will appear. Now you can navigate to the Administrator log in by clicking Administrator or go right to your site by clicking Site.
Installing Extra Languages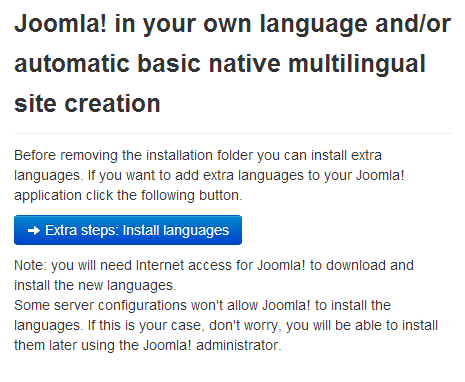 Before you complete your installation by deleting the Installation Folder, click on:
 

→  Extra steps: Install languages
This will continue the installation of Joomla! by taking you to a new installation page.
Install Languages
A list of language packs is displayed.
Check the language or language packs you wish to install. Remember the following:
Language packs included in custom distributions will not be listed at this stage as they are already installed.
A version of the packs proposed will match the Joomla Major version (3.0.x, 3.1.x, etc.). The minor version of the pack may not correspond, e.g. you are installing version 3.3.3 and a 3.3.2 language pack is shown.
Unmatched language packs in the above example may have untranslated strings.
The unmatched language packs will be offered as an update when the packs are updated by the registered Translation teams. The available update will be shown in the Control panel as well as in Extensions Manager

 

→ Update. This behavior is similar to Extensions Manager

 

→ Install Languages.
Click Next and a progress bar will be display while the language pack or packs are downloaded.
Choose Default Language
When the download is complete you can choose the default language for the Site and the Administrator interface.
Make your choices for default languages.
You may also choose to activate the multilingual features of Joomla! at this time too.
Click Yes next to Activate the multilingual feature
Two additional choice will appear.
Install localised content, yes or no. This will automatically create one content category for each language installed and one featured article with dummy content for each content category installed.
Enable the language code plugin, yes or no. If enabled, the plugin will add the ability to change the language code in the generated HTML document to improve SEO.
When you completed all the choices of language installation, click Next to proceed.
Finalise
You will now be presented with a very similar Congratulations! Joomla! is now installed. screen. The difference will be a notation of the default Administrator and Site language settings, if they were set. You will also not see the Extra Steps message in the bottom right.
Sad možete da obrišete Instalacioni Folder. Kliknite na Ukloni Instalacioni folder i pojaviće se informacija o uspešno odrađenoj akciji. Sad možete da se prebacite na logovanje u administracioni deo klikom na Administrator ili da odete direktno na sajt klikom na Site.