Gestion des En-têtes HTTP
From Joomla! Documentation
---
Outdated translations are marked like this.
Didacticiel
Comment utiliser le nouveau gestionnaire d'en-têtes HTTP dans Joomla 4.0

À partir de Joomla 4.0, Joomla a introduit un système de gestion d'en-tête HTTP. Ce système est conçu pour aider les propriétaires de sites à configurer les en-têtes de sécurité HTTP à partir du serveur principal.
Dans ce didacticiel, vous trouverez les informations sur comment paramétrer ce nouveau système.
Plugin
En-têtes HTTP (plg_system_httpheaders)
Naviguez à Système → Plugins → Système- En-têtes HTTP pour accéder à la configuration du plugin.
Configuration du Plugin
Sur cette page, vous pouvez choisir d'activer l'écriture des en-têtes dans les fichiers de configuration du serveur (.htaccess et web.config) et de définir si les en-têtes http suivants sont activés.
En utilisant le formulaire "En-tête supplémentaire", vous pouvez également configurer les en-têtes suivants avec leurs valeurs:
Configuration Strict-Transport-Security (HSTS)
From this page you can choose to enable that the Strict-Transport-Security (HSTS) header as well as configure the max-age value whether subdomains should be included and whether you want to be added to the browsers Preload List.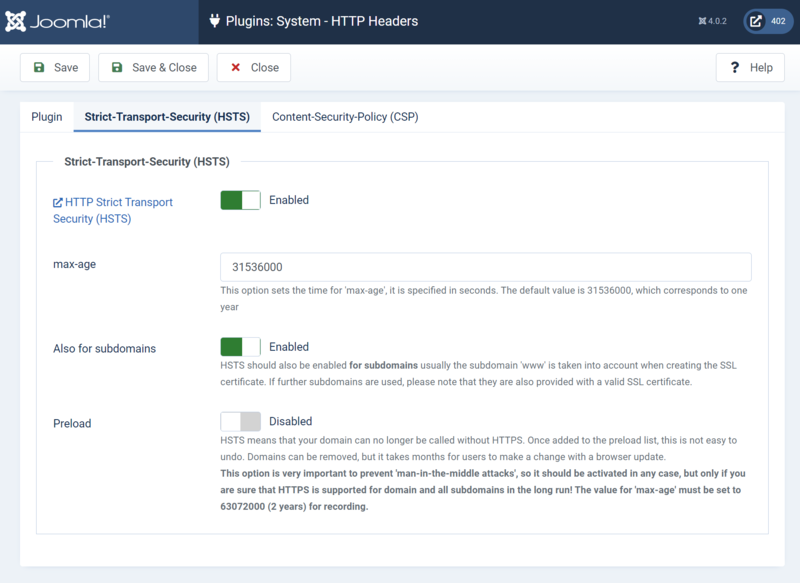 Composant
Content Security Policy (com_csp)
Navigate to System → Content Security Policy to access the Content Security Policy Reports dashboard.
Rapports
From this screen the Administrator has a global overview of the collected Content Security Policy reports and has the ability to review, publish, unpublish and delete suggested rules for the Content Security Policy directive.
To learn more, please see: Content Security Policy Interface
Paramètres
From this screen you can configure the options of the component like the permissions and specificly the settings for the Content-Security-Policy, including different modes and whether the headers are in read only mode.
To learn more, please see: Content Security Policy Options
Notes
When you have configured some HTTP Security Headers directly on the server, then our tooling might create double entries.
Check the output of your HTTP Headers after configuring in the browser console. In Google Chrome: Inspect > Network > the output under Headers). You can than disable the headers that cause double entries. Also check the console of your browser for possible errors.
Développeurs d'extension
As you might know the big security advantage concerning Content Security Policy jumps in when we can use the Header to block all inline JavaScript and inline CSS affecting for example JavaScript event handlers via HTML attributes. So with this browser protection enabled we will block inline JavaScript and inline CSS usage also for your extensions. That protection is not enabled by default but can be enabled by your users.
For 4.0 it would be recommended to get the frontend of your extension running with strict Content Security Policy enabled. For 4.1 compatibility it would be recommended that this also applies to your backend.
We know that it is still a requirement to have inline JavaScript and CSS, for that reason we have implemented nonce and hash support into our Document APIs when you use them the core will make sure they are whitelisted but we will still block any malicious to protect our sites.
Important notes for Extension Developers
Starting with Joomla 4.0 Content Security Policy:
is shipped by the core
is disabled by default
can be enabled by your users
it is strongly recommended that your extension frontend works by 4.0 with Content Security Policy enabled
it is recommended that your extension backend works by 4.1 with Content Security Policy enabled
With strict Content Security Policy enabled the following features will be blocked:
the execution of JavaScript via the HTML event handlers (onXXX handlers like onClick and similar)
the execution of in-page JavaScript not passed to the page via the Document API
the execution of JavaScript code injected into DOM APIs such as eval()
the usage of inline in-page CSS not passed to the page via the Document API
the usage of inline CSS using the HTML style attribute
To get your extensions work even with strict Content Security Policy enabled, the easiest way is to use the Document API to apply your inline JavaScript and CSS, please check the examples below.
Ajout de JavaScript à l'aide de l'API Joomla
use

 

Joomla\CMS\Factory

;





/** @var Joomla\CMS\WebAsset\WebAssetManager $wa */




$wa

 

=

 

Factory

::

getApplication

()

->

getDocument

()

->

getWebAssetManager

();





// Add JavaScript from URL




$wa

->

registerAndUseScript

(

'com_example.sample'

,

 

'https://example.org/sample.js'

,

 

[],

 

[

'defer'

 

=>

 

true

]);





// Add inline JavaScript




$wa

->

addInlineScript

(

'




    document.addEventListener("DOMContentLoaded", function(event) {




        alert("An inline JavaScript Declaration");




    });




'

);



Ajout de CSS à l'aide de l'API Joomla
use

 

Joomla\CMS\Factory

;





/** @var Joomla\CMS\WebAsset\WebAssetManager $wa */




$wa

 

=

 

Factory

::

getApplication

()

->

getDocument

()

->

getWebAssetManager

();





// Add Style from URL




$wa

->

registerAndUseStyle

(

'com_example.sample'

,

 

'https://example.org/sample.css'

);





// Add inline Style




$wa

->

addInlineStyle

(

'




	body {




		background: #00ff00;




		color: rgb(0,0,255);




	}




'

);



Plus de détails ici:Ajouter du JavaScript et des CSS à une page
Additional resources about Content Security Policy and HTTP Headers