Administradors
From Joomla! Documentation
---
Outdated translations are marked like this.
Com a administrador del lloc web, potser estigui preocupat per l'aspecte visual del lloc web, però passarà la responsabilitat de fer canvis i millores a un dissenyador de pàgines web. De la mateixa manera, quan es requereixen canvis en la funcionalitat, contractarà a un desenvolupador web per fer la feina. Com a administrador d'un lloc web, és responsable de la gestió del dia a dia, i el manteniment de la pàgina web. Les activitats poden incloure la garantia de que el lloc està recolzat adequadament; la gestió d'accés dels usuaris; possiblement la instal·lació d'extensions. També tindrà la responsabilitat de mantenir la seguretat del lloc web.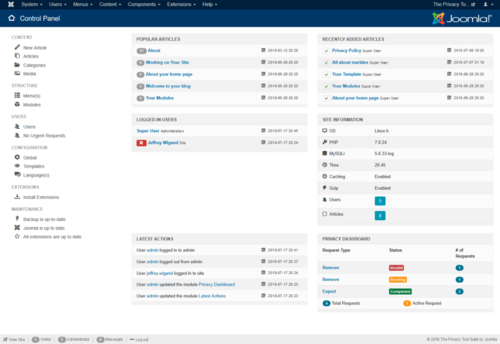 Manual de l'Administrador amb Joomla!
La intenció és que la llista de temes que veus a continuació ha de ser a la base de tasques i no una "llista de característiques" per a l'administració de llocs web amb Joomla !. Els articles que veurà a continuació, s'aborden les activitats reals i comuns que necessitarà realitzar un administrador.
Tasques i preguntes habituals
Gestió d'Articles
Managing Content
Editing an article
Per a més informació, vegeu Gestió d'Articles a la pàgina del Portal.
Gestió d'Usuaris
Managing Users
Managing Access

For more information, see User Management Portal page.
Gestió de Menús
Managing Menus
Per a més informació, vegeu Gestió de Menús a la pàgina del Portal.
Guia de seguretat Joomla!
"'Els administradors també han de ser conscients dels problemes de seguretat."'
Fòrum de Seguretat per a Joomla
Feeds de Seguretat amb Joomla
Gestió de Plantilles
Gestió de Plantilles
Els articles següents ajudaran als nous usuaris a comprendre com utilitza Joomla! les plantilles per mostrar les pàgines web.
Migrating from Joomla! 1.5 to 3.x
There are differences in how Joomla! 1.5 templates work compared to Joomla! 3.x templates. Joomla! 1.5 templates must be upgraded to work with 3.x.

Per a més informació, vegeu Gestió de Plantilles a la pàgina del Portal..
Trucs, Consells i Rendiment
Consells
Gestió d'Extensions
Gestionant Extensions
Gestió de projectes i de tasques obertes per Administradors
L'equip de la Wiki de documentació de Joomla! necessita la seva ajuda! A continuació es mostra un llistat de pàgines/articles que es necessiten per a aquesta pàgina. Si vostè sap d'un tema que hauria de realitzar-se, només ha d'afegir a la Llista d'enllaços amb vermell que es troba més avall, utilitzant el següent codi wiki.
Per afegir un "Enllaç Vermell" '

*[[Put your suggested Article name here]]

i afegir-ho al "Administrador de Projectes i Tasques de la pàgina"'. Utilitzeu el següent codi wiki per afegir la proposta d'un tema a la llista:
Llista d'Enllaços vermells d'Articles que necessita "'Administrador"':
encara no hi ha cap llistat
Altres idees i Sugerencies
Enumereu les seves idees i suggeriments aquí:
Necessitem més idees i suggeriments per millorar aquesta pàgina. -Grup de treball de Documentació