Portal:Administraatorid
From Joomla! Documentation
---
As a website administrator you might be concerned about the visual appearance of a website but will pass responsibility for making changes and improvements to a web designer. Similarly, when changes to functionality are required you will contract a web developer to do the necessary work. As a website administrator you are responsible for the day-to-day operation and maintenance of the website. Activities might include ensuring that the site is properly backed up; managing user access; possibly installing extensions. You will also have responsibility for maintaining the security of the website.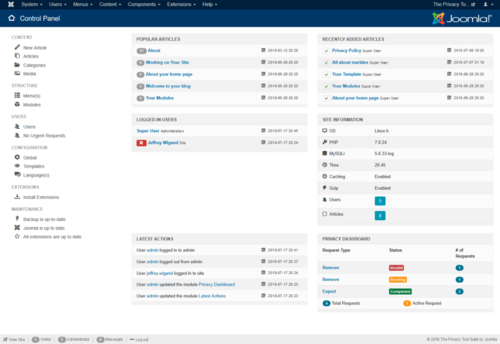 Juhend Joomla! administraatoritele
The intention is that the list of topics you see below should be task-orientated and not a "feature list" for Joomla! website administration. These items should address real and common activities that an Administrator will need to perform.
Tavalised ülesanded ja küsimused
Artiklite haldamine
Managing Content
Editing an article
Lisainfot vaata artiklite haldamise leheküljelt.
Kasutajate haldamine
Managing Users
Managing Access

Lisainfot vaata kasutajate haldamise leheküljelt.
Menüü haldamine
Managing Menus
Lisainfot vaata menüü haldamise leheküljelt.
Joomlaǃ turvajuhend
Administrators should also be aware of security issues.
Joomla Security Forums
Joomla Security Feeds
Kujunduste haldamine
Managing Templates
The following articles will help new users understand how Joomla! uses templates to display web pages.
Migrating from Joomla! 1.5 to 3.x
There are differences in how Joomla! 1.5 templates work compared to Joomla! 3.x templates. Joomla! 1.5 templates must be upgraded to work with 3.x.

Lisainfot vaata kujunduste haldamise leheküljelt..
Trikid, nipid ja kiirendamine
Tips
Lisaprogrammide haldamine
Managing Extensions
Administraatorite dokumentatsiooni projektid ja avatu ülesanded
The Joomla! Documentation Wiki needs your help! Below is a list of pages/articles needed for this page. If you know of a topic which needs to be addressed, just add it to the List of Red Links below by using the following wikimarkup.
To add a Red Link and add it to the Administrators Projects and Tasks page. Please use the following wikimarkup code to add the suggested topic to the list:

*[[Put your suggested Article name here]]
List of Red Links for needed Administrator Articles:
Other Ideas and Suggestions
List your ideas and suggestions here:
We need more ideas and suggestions for improving this page. -The Doc Team