Portal:Yöneticiler
From Joomla! Documentation
Outdated translations are marked like this.
Joomla! 
3.10.12
Stable Version
Bir web sitesi yöneticisi olarak, bir web sitesinin görsel görünümü hakkında endişe edersiniz, ancak bir web tasarımcısında değişiklik yapma ve geliştirme yapma sorumluluğunu üstlenebilir. Benzer şekilde, işlevsellik değişiklikleri gerektiğinde, bir web geliştiricisine gerekli işi yaptırmaya karar vereceksiniz. Bir web sitesi yöneticisi olarak, web sitesinin günlük işlem ve bakımından siz sorumlusunuz. Faaliyetler, sitenin düzgün bir şekilde yedeklenmesini; Kullanıcı erişimini yönetmek; Muhtemelen eklentiler yüklemek. Ayrıca web sitesinin güvenliğini sağlamaktan siz sorumlusunuz.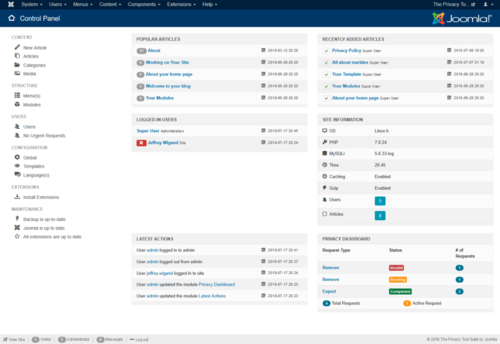 Joomla! Yönetici El Kitabı
Aşağıda gördüğünüz konuların Joomla! web sitesi yönetimi için görev odaklı ve " Özellik listesi" olması gerekir. Bu öğeler, bir Yöneticinin gerçekleştirmesi gereken gerçek ve ortak etkinlikleri ele almalıdır.
Joomla! her zaman güncel tutulmalıdır
Joomla kullanıyorsanız, en baştan CMS'yi düzenli olarak güncel tutmanız gerektiğini bilmelisiniz. Bu, World Wide Web'de bir CMS'nin (yalnızca belirli Joomla değil) çalışmasındaki en önemli güvenlik yönlerinden biridir.
Ortak Görevler ve Sorular
Makale Yönetimi
Managing Content
Editing an article
Daha fazla bilgi için bakınız. Article Management Portal sayfası.
Kullanıcı Yönetimi
Managing Users
Managing Access

For more information, see User Management Portal page.
Menü Yönetimi
Managing Menus
Daha fazla bilgi için bakınız Menu Management Portal sayfası.
Joomla! Güvenlik Kılavuzu
Administrators should also be aware of security issues.
Joomla Security Forums
Joomla Security Feeds
Şablon Yönetimi
Managing Templates
The following articles will help new users understand how Joomla! uses templates to display web pages.
Migrating from Joomla! 1.5 to 3.x
There are differences in how Joomla! 1.5 templates work compared to Joomla! 3.x templates. Joomla! 1.5 templates must be upgraded to work with 3.x.

Daha fazla bilgi için bakınız Template Management Portal sayfası.
Püf noktaları, İpuçları ve Performans
Tips
Eklenti Yönetimi
Managing Extensions
Yöneticiler Belgeler Projeleri ve Açık Görevler
The Joomla! Documentation Wiki needs your help! Below is a list of pages/articles needed for this page. If you know of a topic which needs to be addressed, just add it to the List of Red Links below by using the following wikimarkup.
To add a Red Link and add it to the Administrators Projects and Tasks page. Please use the following wikimarkup code to add the suggested topic to the list:

*[[Put your suggested Article name here]]
List of Red Links for needed Administrator Articles:
Other Ideas and Suggestions
List your ideas and suggestions here:
We need more ideas and suggestions for improving this page. -The Doc Team