Портал:Адміністратори
From Joomla! Documentation
---
Outdated translations are marked like this.
Як адміністратор веб-сайту ви займаєтесь зовнішнім виглядом сайту, але потім передасте відповідальність за внесення змін та поліпшень веб-дизайнеру. Також, коли вимагаються змінити функціональності, ви маєте домовитись із веб-розробником, щоб зробити необхідну роботу. Як адміністратор ви відповідаєте за щоденну експлуатацію та обслуговування сайту. Діяльність може включати гарантію того, що сайт надійно підтримується; управління доступом користувача; можливо установку розширень. Ви також відповідає за захист сайту.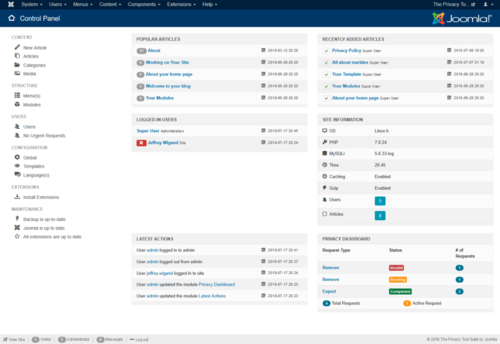 Адміністратор по експлуатації із Joomla!
Сенс в тому, що список тем, який ви бачите нижче має бути ""'орієнтований на вирішення конкретних завдань""' і не має бути ""'"списком функцій"""' для сайту адміністратора Joomla! Пункти списку мають відображати реальні й загальні дії, які адмін має виконувати.
Загальні завдання і питання
Стаття з управління
Managing Content
Editing an article
"Для отримання додаткової інформації, див. сторінку порталу "'статті Менеджменту"'".
Управління користувачами
Managing Users
Managing Access

For more information, see User Management Portal page.
Управління меню
Managing Menus
"Для отримання додаткової інформації, див. сторінку порталу "'статті Менеджмент"'".
Керівництво З Безпеки В Joomla!
Administrators should also be aware of security issues.
Joomla Security Forums
Joomla Security Feeds
Управління Шаблонами
Managing Templates
The following articles will help new users understand how Joomla! uses templates to display web pages.
Migrating from Joomla! 1.5 to 3.x
There are differences in how Joomla! 1.5 templates work compared to Joomla! 3.x templates. Joomla! 1.5 templates must be upgraded to work with 3.x.

"Для отримання додаткової інформації, див. сторінку порталу "'статті Менеджмент"'"..
Хитрощі, поради та продуктивність
Tips
Управління розширеннями
Managing Extensions
Проекти по документації та відкриті питання адміністраторів
The Joomla! Documentation Wiki needs your help! Below is a list of pages/articles needed for this page. If you know of a topic which needs to be addressed, just add it to the List of Red Links below by using the following wikimarkup.
To add a Red Link and add it to the Administrators Projects and Tasks page. Please use the following wikimarkup code to add the suggested topic to the list:

*[[Put your suggested Article name here]]
List of Red Links for needed Administrator Articles:
Other Ideas and Suggestions
List your ideas and suggestions here:
We need more ideas and suggestions for improving this page. -The Doc Team