Cómo usar el Gestor de Plantillas
From Joomla! Documentation
---
Desde el elemento de menú Gestor de Plantillas: Personalizar Plantilla introducido en Joomla 3.2, usted puede editar archivos, crear archivos y carpetas e incluso crear modificaciones (overrides) directamente desde la zona de administración. Las modificaciones creadas en esta pantalla de edición son Modificaciones de plantilla (template overrides), que no deben ser confundidas con las de diseño (layout overrides).
Las modificaciones de plantilla modifican las 'vistas de diseño' del core de Componentes, Módulos y archivos de /layout/joomla/.
Las modificaciones de diseño (layout overrides) crean nuevas vistas de diseño para componentes y módulos. Pueden ser seleccionadas (en los menús y opciones de la zona adminsitrativa) como vistas de diseño alternativas a las vistas de diseño de componente y módulo del núcleo. Para saber más sobre ellas consulte modificaciones de diseño en Joomla.

To edit or copy a template's files with the Template Manager: Customise Template you must first access the Template manager.
Access the Template Manager
Click on: Extensions

 

→ Templates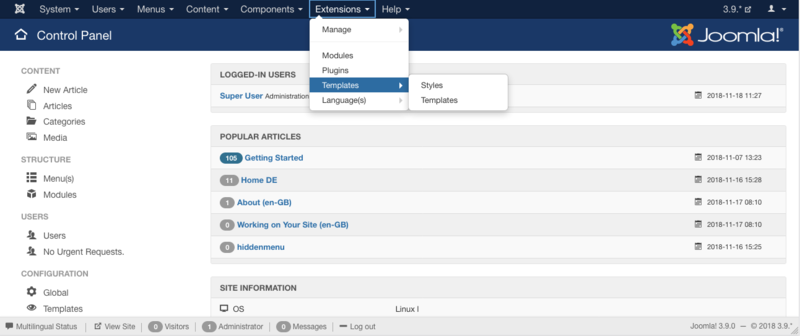 You will now see the Template Manager screen.
Note: If you do not see Templates listed as an option on the Extensions menu, then it is most likely because you are not logged in as a Super Administrator. Only Super Administrators will see this menu item.
Access the Template Manager Customisation Feature
There are two methods available for accessing the Template Manager: Customise Template. The Customise Template interface allows for editing the actual code found in the template files, creating template overrides and template file manipulation.
One-Click or Switch to Template View
Styles column refers to changing the available parameters of a template, such as color, font-color, logo, etc. These are dependent on the parameters a template maker made available and are a convenience for quick changes. Template - column refers to editing the actual template files.
To access the Template Customise feature:
Directly - Click the template name in the column Template
Indirectly -

Styles

will be highlighted, click on Templates below it which will turn the view to Template Manager:Templates, see image below.
Customisation View
You should now be looking at the image below, Template Manager: Customise Template.
Personalizar una Plantilla
Haga clic en cualquier archivo y podrá editarlo directamente en el navegador.
Cómo usar la barra de herramientas del Gestor de Plantillas
Cuando esté dentro del Gestor de Plantillas, verá una barra de herramientas como la siguiente:
Haga clic en el botón "Copiar Plantilla" y podrá obtener una copia completa de su plantilla.
Crear una copia de esta forma podría ser muy útil para hacer pruebas. Solía ser mucho más difícil.
Haga clic en el botón "Vista previa de la plantilla" y verá inmediatamente una previsualización de la zona pública de su plantilla con las posiciones de los módulos marcadas:
Haga clic en el botón "Gestionar carpetas" y podrá crear nuevas carpetas dentro de su plantilla.
Haga clic en el botón "Archivo nuevo" y podrá crear un nuevo archivo o subir uno desde su escritorio.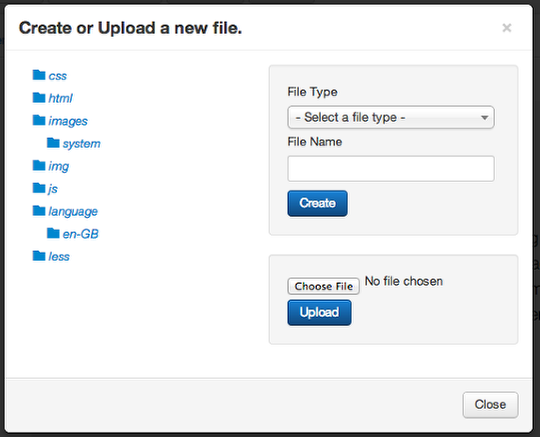 Cuando crea un archivo, Joomla le ofrecerá varios de los formatos más populares: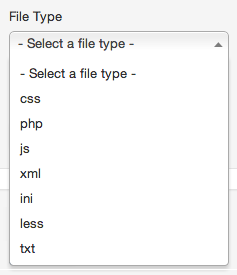 Crear modificaciones (overrides)
Una de las funcionalidades útiles del nuevo Gestor de Plantillas es lo fácil que hace las modificaciones (overrides).
Antes era prácticamente imposible conseguir una visión general clara de qué posibilidades de modificaciones había disponibles en un sitio Joomla .
Haga clic en la pestaña "Crear modificaciones" y el nuevo Gestor de Plantillas mostrará todas las posibilidades en una lista ordenada:
Haga clic en un componente y obtendrá todas las posibilidades para dicho componente. En este ejemplo, hice clic en com_content:
Haga clic en una de la posibilidades, por ejemplo "artículo", y verá este mensaje:

Vuelva a la pantalla del Editor y los archivos de la modificación estarán disponibles para ser editados:
Un éxito del Google Summer of Code
Este nuevo gestor de plantillas fue un proyecto del Google Summer of Code de 2013.
El desarrollador fue Ram Tripathi, un estudiante de Delhi. Tuvo una colaboración muy exitosa con su mentor Ken Crowder, un desarrollador Joomla veterano. Felicidades a ambos y a todo el equipo de desarrollo del Google Summer of code de ese año.